As international outrage mounts over the number of civilians being killed in Gaza, Israel is trying to explain its actions.
In a flurry of briefings, senior military officials have been describing the objectives and timeline of an operation one of them said "might stay like this for a while".
First, some numbers: Israel says it has hit 820 different targets in the first week of action, some of them repeatedly.
That compares with 180 targets in Gaza during the whole of last year (a reminder that for all the ferocity of the past week, this is a long-running war).
In return, Hamas and Islamic Jihad militants have fired more than 3,150 rockets. In 2019, by comparison, a total of 2,045 rocket launches were recorded (another reminder).
Israel's operation "Guardian of the Walls" began with attacks on Hamas tunnels close to the border fence with Israel. Defence of Israel's nearby communities, some of which are within a few hundred metres of the fence, was a top priority.
Next came everything associated with missiles – including launchers, manufacturing centres – closely followed by an all-out assault on Hamas's entire military infrastructure, including hundreds of miles of underground tunnels Israel's military calls "the Metro".
When this phase began, with a ferocious bombardment on Thursday night, terrified civilians fled, fearing an imminent ground invasion.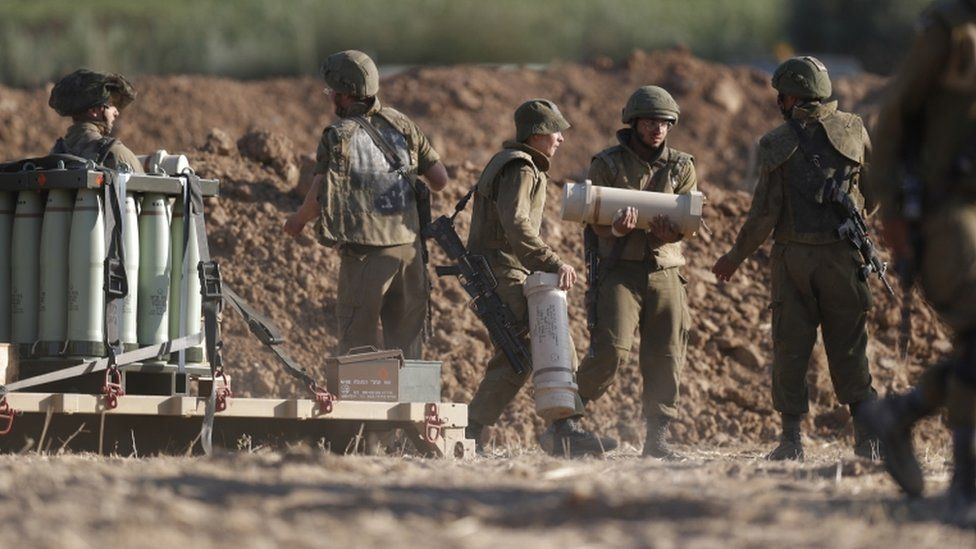 It's been during this crucial phase, described by Israeli officials as the centrepiece of the operation, that the number of Palestinians killed started to rise dramatically.
A word, here, about who those people are. It's the subject of sharply differing narratives.
Jonathan Conricus, spokesman for the Israel Defense Forces (IDF), says at least 130 of the close to 200 Palestinians killed so far have been combatants. He says this is "the most conservative estimate".
This is obviously at variance with figures from the Palestinian health ministry, which in Gaza is controlled by Hamas. It says almost 100 of the dead are women and children, but never talks about fighters.
Israel admits that civilians are caught up in the violence, but lays the blame squarely at the feet of Hamas, which it says is guilty of cynically operating in and around the blameless citizens of Gaza.
The fate of the 11-storey al-Jalaa tower is a case in point. Home to the local offices of al-Jazeera and Associated Press news agency, it was also, Israel says, bristling with Hamas offices and equipment.
The journalists were warned that an attack was coming and given an hour to get out before the building was levelled.
Israel insisted it had no choice but to attack the building and said the fact that no-one was killed was an example of the lengths to which its military will go to avoid civilian casualties.
A senior commander had words of advice for the media. "In Gaza, don't rent your office next to Hamas. It's a very bad idea."
The assault on the "Metro" presents other problems.
Early on Sunday morning, a series of devastating air strikes on Gaza's al-Rimal neighbourhood brought three residential buildings crashing to the ground, killing 42 people. It was the deadliest single attack so far.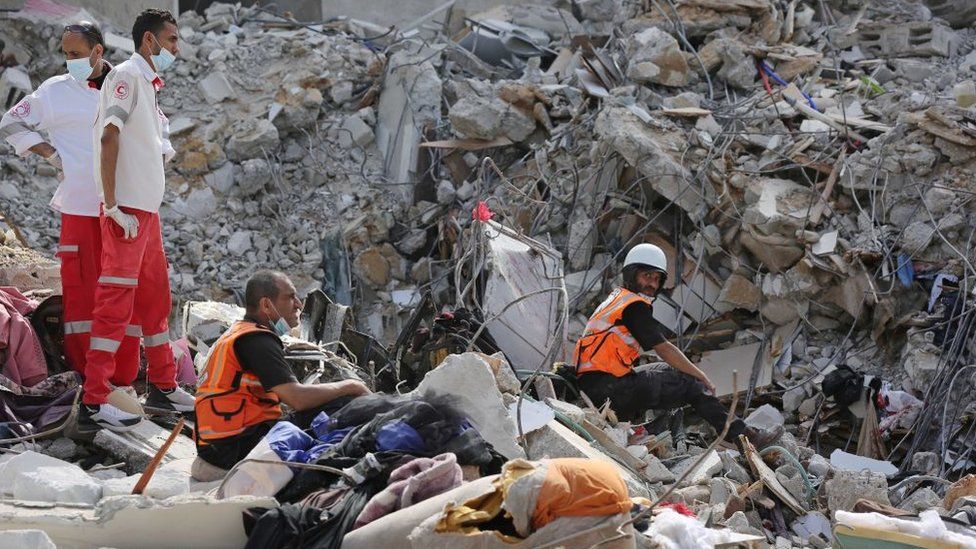 Again, Israel blames Hamas and what one officer called "this crazy underground infrastructure".
The buildings were not the target, he insisted. It was the Metro. But when part of the tunnel network collapsed, nearby foundations collapsed too.
"That was very unfortunate," the officer said. "We're trying to learn what happened."
On Monday morning, Gazans woke up to find craters in some of the strip's busiest roads. Naturally, they assumed their civilian infrastructure was now being attacked.
Not so, Israel said. Again, it was all about the tunnels.
And there's the problem. How do you fight a war in one of the poorest, most densely populated places on earth, against an enemy who uses this to his advantage? How do you defend your own population from harm when almost everything you do affects innocent civilians?
Source Link: https://www.bbc.co.uk/news/world-middle-east-57152419