A national day of mourning is being held in Israel after a crush at a Jewish festival early on Friday that killed 45 men and boys.
Some 150 people were injured at the Lag B'Omer festival, near Mount Meron in northern Israel, when they became trapped in an overcrowded passageway.
Up to 100,000 mostly ultra-Orthodox Jews were present at the gathering.
All of the victims have now been identified. There are 12 teenagers and children among them.
Flags on all public buildings have been lowered to half-mast, and concerts and sports events postponed.
The families of those already buried are beginning their week-long wakes, known in Jewish tradition as sitting shiva.
The work of identifying the dead was paused for 24 hours late on Friday to mark the Sabbath, the Jewish day of rest. From sunset on Saturday, funerals resumed.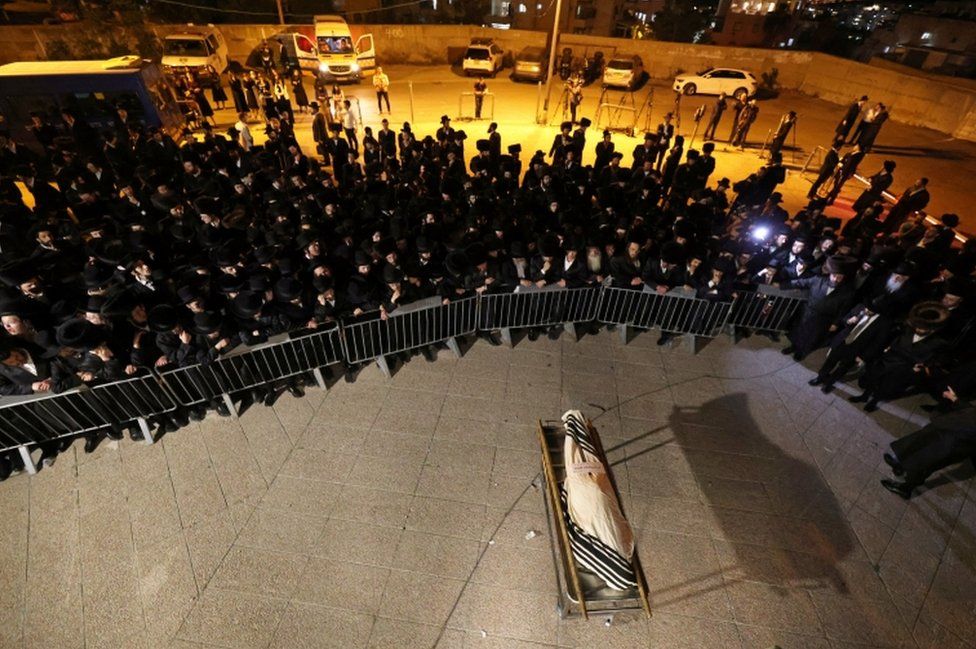 "I only wish that we achieve even a small fraction of your stature in studies and holy devotion," said Avigdor Chayut, as he buried his 13-year-old son, Yedidya, in the town of Bnei Brak, near Tel Aviv.
The Magen David Adom rescue agency said on Saturday that more than 2,200 people, including Prime Minister Benjamin Netanyahu, had donated blood to help the injured.
At least 20 people were still in hospital on Saturday, Israeli media reported, many of them in a serious or critical condition.
Among the dead, two sets of brothers
The 45 people killed in the crush include young fathers, rabbis and two sets of brothers, the Times of Israel reported.
Two of the youngest victims were Moshe Natan Englander, 14, and Yehoshua Englander, 9, from Jerusalem.
At least 10 foreign citizens were said to be among the dead.
Four are American, according to the Israeli foreign ministry. The US has not yet named them, but local reports identified an 18-year-old gap-year student, Donny Morris, from New Jersey.
"We are all shocked and devastated. There are no words," said Rabbi Yechiel Morris, the victim's uncle.
It is with a heavy heart that we share the news that Donny Morris, son of Mirlana and Aryeh Morris of Bergenfield, was one of the victims of the tragic event that occurred yesterday in Meron, Israel. Donny was a graduate of the Marsha Stern Talmudic Academy (MTA) and studying in pic.twitter.com/KX0kdGRoCb

— JFNNJ (@JFNNJ) April 30, 2021

Canada's Prime Minister Justin Trudeau said two Canadians were killed.
Fraught questions over accountability
Mr Netanyahu has called the incident one of Israel's worst peacetime disasters, and pledged to hold an inquiry to ensure such a tragedy cannot happen again.
Questions are being raised over who is accountable.
"Once we have finished identifying and burying our dead, I will stand before the cameras and take responsibility" for the events, Public Security Minister Amir Ohana said on Saturday.
"I am responsible, but responsibility does not mean blame," he added.
Fractures between the ultra-Orthodox community and secular Israel are coming to the surface, the BBC's Middle East correspondent Tom Bateman reports. Evidence is mounting that the pilgrimage site was a known safety risk, labelled hazardous years before by state investigators.
There are suggestions the government and police may not have acted to reduce the scale of the gathering out of deference to high-profile rabbis and politicians.
More than half of Israel's population are now fully vaccinated against Covid-19, but public gatherings are subject to a numbers cap. Officials had authorised 10,000 people to attend the Lag B'Omer festival, but Israeli media reports suggest 10 times that number were present.
"A thorough inquiry is required," Culture Minister Hili Tropper told Kan public radio, according to Reuters. "This terrible disaster will help everyone understand… that there should be no place where the state does not set the rules."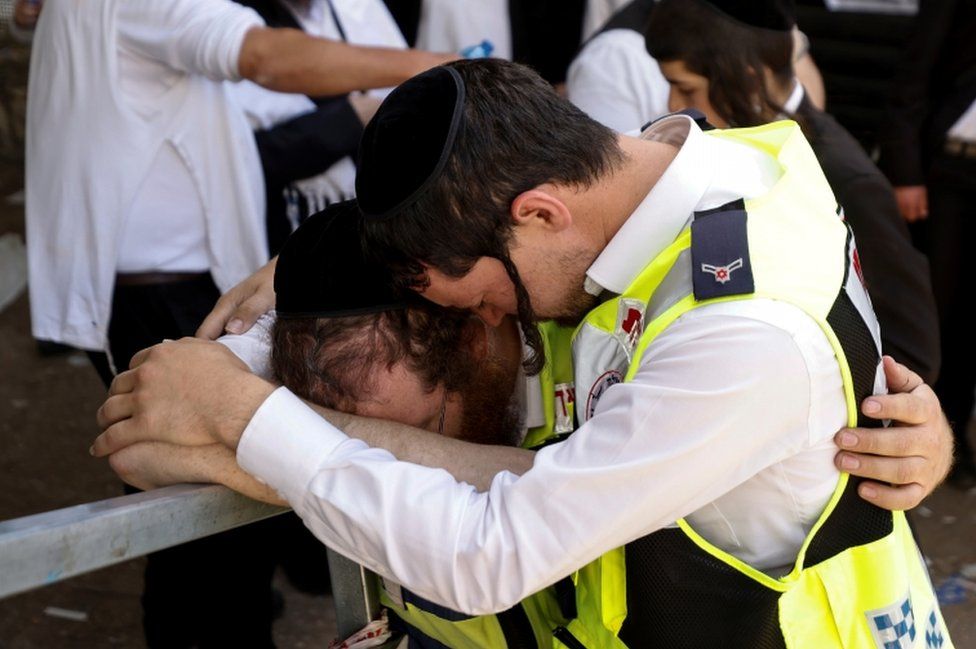 The Justice Ministry is examining whether there was any police misconduct.
Police sources told Israeli newspaper Haaretz that some people had slipped on steps, causing dozens more to fall over. But some witnesses have said a police barricade prevented people from leaving the crowded area.
Source Link: https://www.bbc.co.uk/news/world-middle-east-56961945