People at the scene of a crush at a religious festival in Israel have told of how they were "swept along" by the tide of people, while others were "thrown up in the air".
At least 44 people have been killed and dozens more injured at the Lag B'Omer festival at the foot of Mount Meron.
Tens of thousands of pilgrims were at the event.
'Fighting for his life'
A man who gave his name as David said he was going into see the bonfire lighting when "suddenly there was a wave coming out".
"Our bodies were swept along by themselves. People were thrown up in the air – others were crushed on the ground," he told Ynet news.
"There was a kid there who kept pinching my leg, fighting for his life. We waited to be rescued for 15-20 minutes in this crazy, terrible crush. It was awful."
One survivor who was taken to hospital told the Kan public broadcaster that "no one knew what to do".
"It started with heavy crowding. There was a lot of people on top of me. I was lying on someone else who wasn't breathing. There were screams, chaos. I saw children underneath me. The only thing going through my mind was that I didn't want my child to be an orphan."
A pilgrim who gave his name as Yitzhak told Channel 12 TV: "We thought maybe there was a (bomb) alert over a suspicious package. No one imagined that this could happen here. Rejoicing became mourning, a great light became a deep darkness."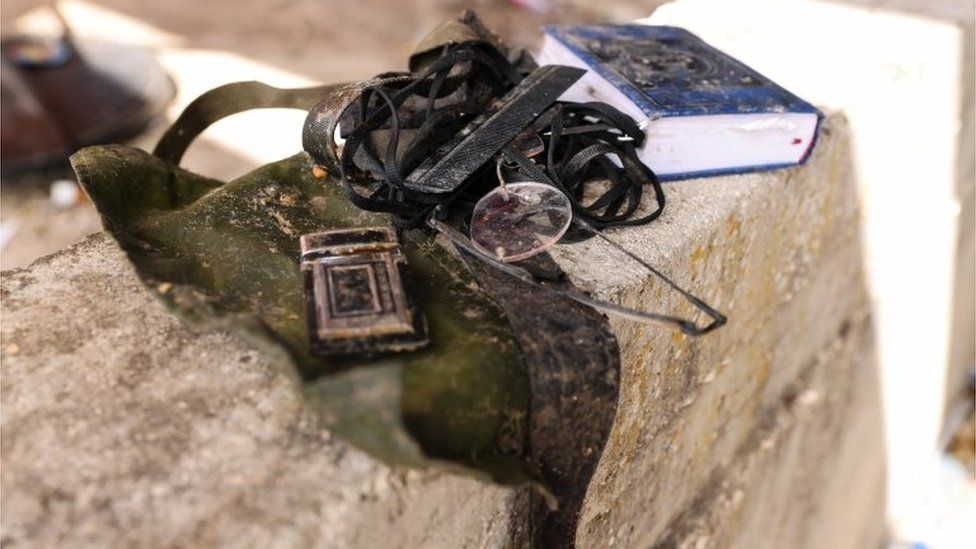 One pilgrim who did not give his name said there was a "carousel" effect and people were pushed right and left.
"After 20 minutes I think people started suffocating so they wanted to get out, but no-one was able to get out. There were people under me who were not breathing anymore. There were horrible screams of 'I can't breathe'."
He said that the screams slowly stopped and the scene was "chaos".
Another eyewitness told Maariv: "We were at the entrance, we decided we wanted to get out and then the police blocked the gate, so whoever wanted to get out could not get out. In that hurry we fell on each other, I thought I was going to die.
"I saw people dead next to me."
Festival-goer Shlomo Katz said he was waiting for friends when he saw paramedics running and trying to resuscitate children at the same time.
Ambulances were "driving in and out", he added.
'Exposed to very difficult sights'
Dov Maisel, from the United Hatzalah Emergency Services said people "crumpled like a pack of cards".
He said that emergency services and volunteers at the scene have been offered counselling.
"Many, many people were hurt, injured and killed here. The volunteers that you see behind us right now have been gathered together for an immediate debrief, there's a psychotrauma unit – the fact that they were exposed to very difficult sights," Dov Maisel, from the United Hatzalah Emergency Services said.
Lazar Hyman, who works for the same service, told the AFP news agency: "I have not seen anything like this since I entered into the field of emergency medicine."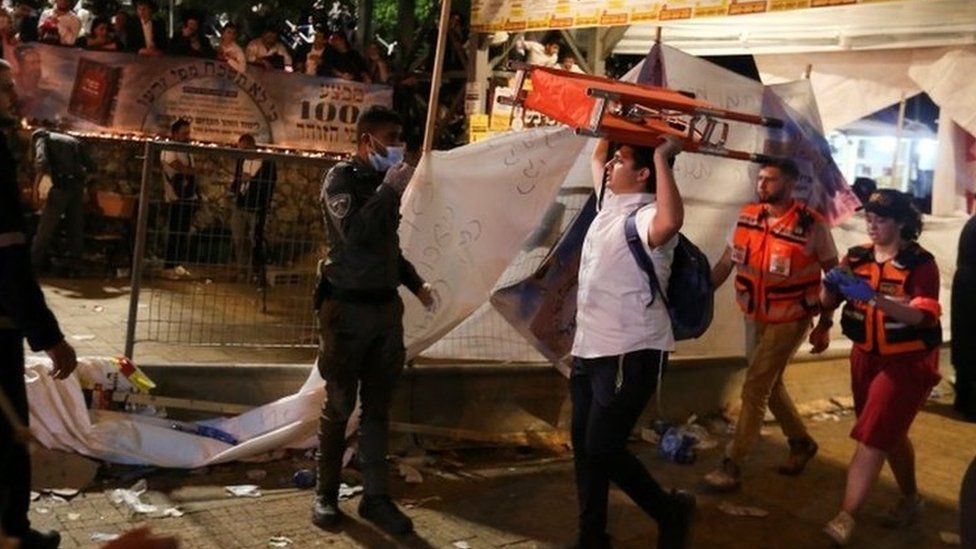 A witness who helped look after the injured told Haaretz: "I had just sat down to eat when I heard the screams. We rushed to help and then we saw the bodies. At the start it was about 10. Now there's many more."
Source Link: https://www.bbc.co.uk/news/world-middle-east-56940704