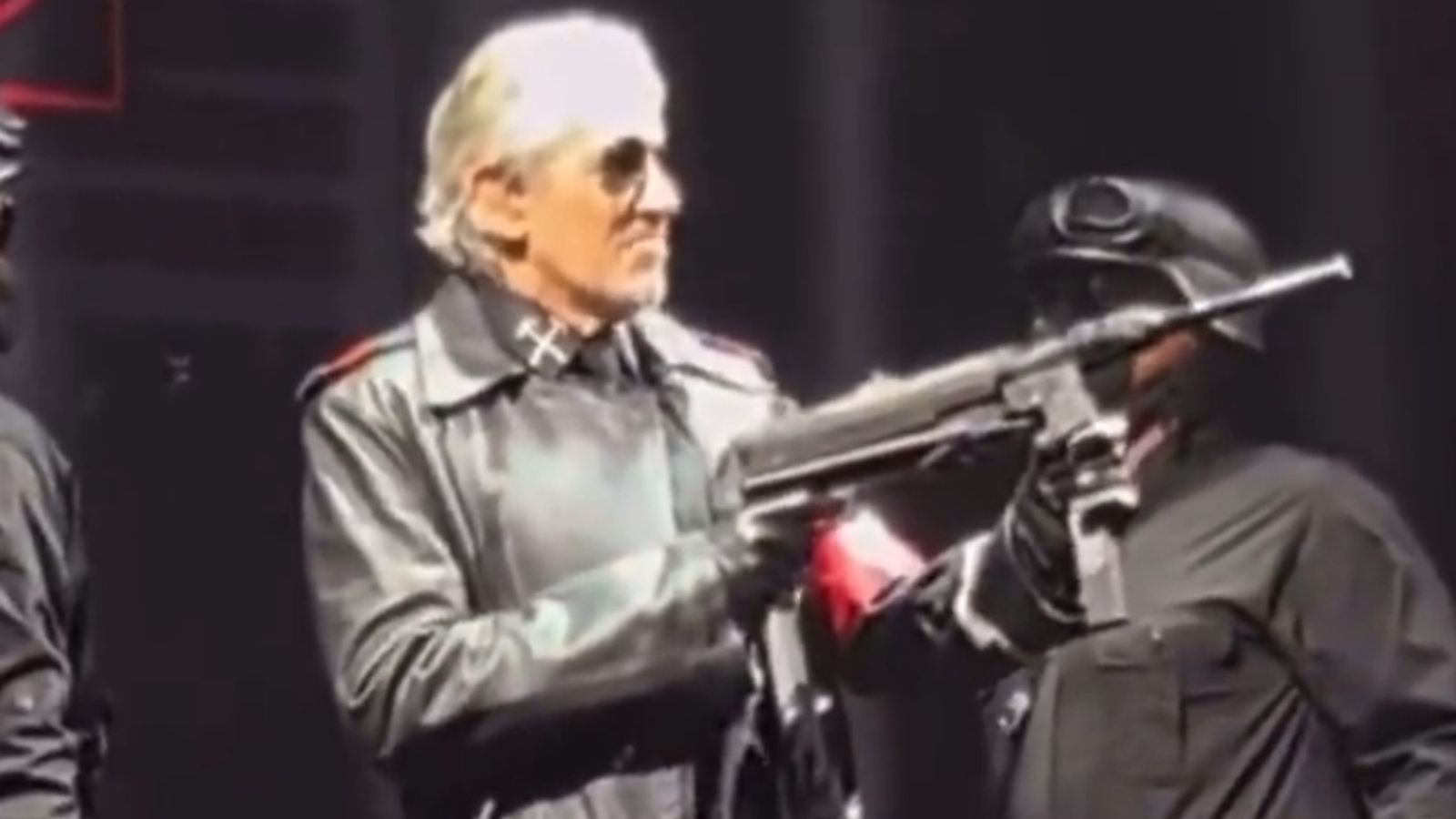 Pink Floyd star Roger Waters says he was opposing "fascism, injustice and bigotry" when he posed firing an imitation machine gun while wearing a Nazi-inspired uniform at a concert in Berlin.
Police in Germany have launched an investigation of the British musician on suspicion of incitement after he was filmed wearing a long black coat and red armband – featuring crossed hammers instead of swastikas
Waters pretended to shoot a fake gun during a skit between songs.
Germany has strict rules against the use of Nazi imagery – punishable by up to three years in prison – although its laws do allow exceptions for artistic or educational reasons.
The police investigation has been opened over suspicions that the context of the costume could constitute a glorification, justification or approval of Nazi rule and therefore a disturbance of the public peace.
Once the police investigation is concluded, the case will be handed to Berlin prosecutors, who would decide whether to pursue any charges.
Video clips and photos of the show, at the German capital's Mercedes-Benz Arena on 17 May, have sparked outrage.
Another image of the concert shows the name of Holocaust victim Anne Frank in large letters as a backdrop.
In a statement, Waters, best known for co-founding Pink Floyd in 1965 before leaving the band 20 years later, said the performance had "attracted bad faith attacks from those who want to smear and silence me because they disagree with my political views and moral principles."
"The elements of my performance that have been questioned are quite clearly a statement in opposition to fascism, injustice, and bigotry in all its forms," he added.
"Attempts to portray those elements as something else are disingenuous and politically motivated."
Waters said the depiction of an "unhinged fascist demagogue has been a feature of my shows since Pink Floyd's The Wall in 1980".
He added: "I have spent my entire life speaking out against authoritarianism and oppression wherever I see it.
"When I was a child after the war, the name of Anne Frank was often spoken in our house, she became a permanent reminder of what happens when fascism is left unchecked.
"My parents fought the Nazis in World War II, with my father paying the ultimate price.
"Regardless of the consequences of the attacks against me, I will continue to condemn injustice and all those who perpetrate it."
Read more entertainment news
Singer shot in the head after saying to man's proposal
Schofield admits affair with much younger man
In the past, Waters has been criticised for his support of the BDS movement, which calls for boycotts and sanctions against Israel over its treatment of Palestinians.
The musician has rejected accusations of antisemitism.
Authorities in Frankfurt tried to prevent a concert there scheduled for 28 May, but Waters challenged that move successfully in a local court.
In Munich, the city council said it had explored possibilities of banning a concert but concluded that it was not legally possible to cancel a contract with the organiser.
His appearance there on Sunday was accompanied by a protest attended by the local Jewish community's leader.
Last year, the Polish city of Krakow cancelled gigs by Waters because of his sympathetic stance toward Russia in its war against Ukraine.
Source Link: https://news.sky.com/story/pink-floyd-star-roger-waters-says-he-was-opposing-fascism-when-he-wore-nazi-inspired-uniform-12890501