Moscow and Washington are looking to "remove all the barriers" to having a better relationship, Russian Foreign Minister Sergei Lavrov has said following talks at the White House.
Mr Lavrov met with President Donald Trump and Secretary of State Rex Tillerson on Wednesday.
Improved relations and the war in Syria apparently dominated the agenda.
But critics questioned the timing of the meetings, a day after Mr Trump fired FBI director James Comey.
Mr Comey was leading an investigation into alleged Russian interference in last year's US election.
Clearly impatient with journalists' repeated questions about Mr Comey, Mr Lavrov rejected claims that Moscow had intervened in the presidential election as "fabrications".
The war in Syria, in particular a Russian plan to create "safe zones", was discussed, Mr Lavrov said. He praised the talks with Mr Trump and Mr Tillerson as "constructive".
The US administration has broadly welcomed the Russian plan, but has expressed wariness about Moscow's support for Syrian President Bashar al-Assad, and the role of Iran – and Iranian proxy forces – in the country.
US officials say they need to hear more about who would patrol the proposed zones, and how they would be enforced.
---
Open, but sceptical: Barbara Plett-Usher, BBC state department correspondent
The Trump administration is open to the concept of safe zones in Syria: both the president and the secretary of state have spoken about them in a general way.
Rex Tillerson calls them 'stabilization zones' where security and local governance could be restored, allowing the return of refugees.
In fact, Sergei Lavrov said Russia got the idea from conversations with Mr Trump and Mr Tillerson and fleshed it out in the Astana Agreement. He told journalists they discussed today specific ways to jointly implement the four zones, adding that he expected US input particularly in the one along Syria's border with Israel and Jordan.
The Americans have been more circumspect. They've welcomed any plan that lowers the violence and sets the stage for a political settlement. But they are opposed to the participation of Iran, which is one of the guarantors of the Astana Agreement.
They are sceptical of its chances of success, given that all past attempts at a ceasefire have failed. And they want more information. Defence secretary James Mattis has said he is studying the zone proposals very closely but needs much more detail on how they would work.
---
Mr Lavrov told journalists: "I would say that our dialogue as of now is free from ideology that was very typical for [Barack] Obama's administration.
"Both Mr Trump and the secretary of state of his administration, as I realised today once again, are businesslike people and they want to reach agreements.
"The goal of both President Trump and [Russian] President [Vladimir] Putin is to have concrete results which will be tangible and which will allow us to alleviate problems, including on the international agenda."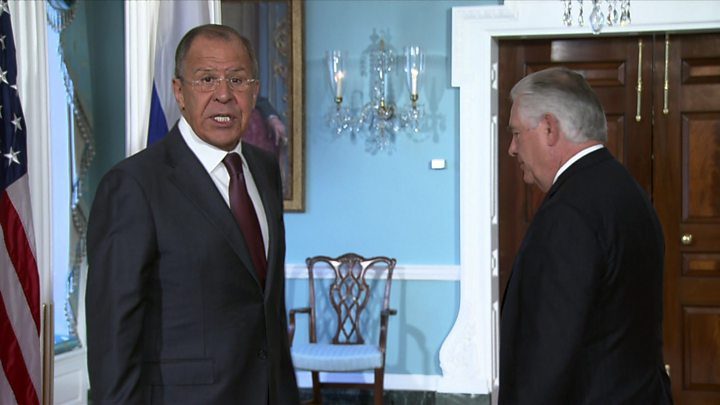 Mr Lavrov met Mr Trump in the Oval Office, the president's inner sanctum in the White House – a rare invite for a non-leader of a foreign country.
US media were kept out of the room, with Russian state photographers providing the only public images of the event.
Mr Trump later told US reporters he had had a "very, very good meeting" with Mr Lavrov, with progress made on the issue of Syria.
"We're going to stop the killing and the death," he added.
Earlier, when Mr Lavrov arrived at the State Department to meet Mr Tillerson, he made a joke about Mr Comey's firing amid shouted questions from reporters.
"Was he fired?… You're kidding, you're kidding!" he said.
Source Link: http://www.bbc.co.uk/news/world-us-canada-39877333