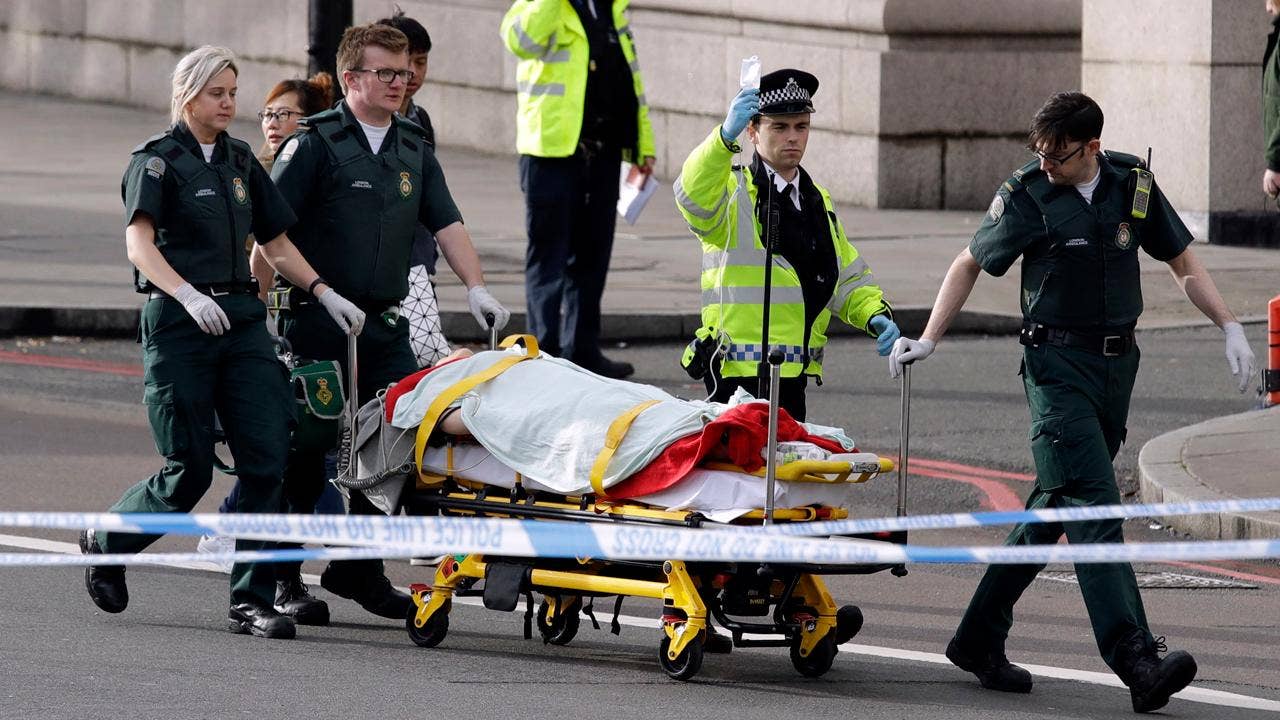 DEVELOPING – Four people, including a London police officer who was stabbed and the alleged assailant, were killed after a terror attack that saw more than 20 people injured outside the Parliament building on Wednesday.
A Scotland Yard commander told reporters they believe there was only one attacker. Among the injured were three police officers.
Live update re incident in #Westminster https://t.co/gd10vkudHG

— Metropolitan Police (@metpoliceuk) March 22, 2017
Police said a vehicle mowed down pedestrians on London's Westminster Bridge, leaving more than a dozen with injuries described as catastrophic.
Around the same time Wednesday, a knife-wielding attacker stabbed a police officer and was shot on the grounds outside Britain's Parliament, sending the compound into lockdown.
There was no immediate claim of responsibility and it was not clear if there was more than one attacker.
WARNING: GRAPHIC IMAGES – PHOTOS FROM LONDON TERROR ATTACK
The assailant — who looked to be in his 30s or 40s — was carrying a seven to eight-inch knife, witnesses told Sky News.
It is unclear if the person shot by police and the driver are the same person.
London police confirmed there are a "number of casualties, including police officers."
Sources told Sky News that up to three officers were injured.
Scotland Yard Commander BJ Harrington told reporters there are multiple injuries, including police officers, but said authorities "cannot confirm numbers or the nature of these injuries."
Full statement from Commander Harrington following the incident in #Westminster #London pic.twitter.com/vMPCXKq2Ft

— Metropolitan Police (@metpoliceuk) March 22, 2017
"We received a number of different reports which included aperson in the river, a car in collision with pedestrians and aman armed with a knife," he added.
He said a full counter-terrorism investigation is underway.
BBC News reported two assailants were believed to have in the vehicle.
A senior government sources told the Daily Telegraph that police are still looking for a suspect in the House of Parliament.
The threat level for international terrorism in the U.K. was already listed at severe. Wednesday was the anniversary of suicide bombings in the Brussels airport and subway that killed 32 people, and the latest events echoed recent vehicle attacks in Berlin and Nice, France.
This is the moment Parliament was suspended as "sounds similar to gunfire" were heard outside pic.twitter.com/to6PPxkNqL

— Sky News (@SkyNews) March 22, 2017
London police were called to the Parliament building at around 2:40 p.m. local time (10:40 a.m. EST) after reports of a vehicle crashing into a crowd at Westminster Bridge near Britain's parliament.
Witnesses say the alleged assailant then stabbed a police officer before he was shot down. The assailant's status is unclear.
Recent Vehicular Terror Attacks:
•Jerusalem, Israel: 1/8/17
•Berlin, Germany: 12/19/16
•Ohio State: 11/28/16
•Nice, France: 7/14/16 https://t.co/CAaDgAgko7

— Fox News Research (@FoxNewsResearch) March 22, 2017
The London Ambulance Service said it had treated at least 10 people on Westminster Bridge.
The French prime minister said French high school students were among the injured on Wednesday.
Colleen Anderson of St Thomas' Hospital said a woman died after a vehicle apparently hit pedestrians on Westminster Bridge, near Parliament, according to the Press Association. Details on the second death are unavailable.
Anderson said: "There were people across the bridge. There were some with minor injuries, some catastrophic. Some had injuries they could walk away from or who have life-changing injuries."
An alleged assailant was also shot by police after stabbing the officer – reportedly three times, according to Sky News. It is unclear if there were others involved in the attack.
Sky News reported a woman was pulled alive from River Thames.
The Port of London Authority says a female member of the public was recovered from the river, injured but alive.
Rick Longley told the Press Association that he heard a bang and saw a car plow into pedestrians and come to a crashing stop. Images from the scene showed pedestrians sprawled on the ground, with blood streaming from a woman surrounded by a scattering of postcards.
"They were just laying there and then the whole crowd just surged around the corner by the gates just opposite Big Ben," he said. "A guy came past my right shoulder with a big knife and just started plunging it into the policeman. I have never seen anything like that. I just can't believe what I just saw."
At Parliament, a body was seen lying in the yard. It wasn't clear if it was the attacker.
Incredibly brave @metpoliceuk anti-terror officers co-ordinating a lockdown & evacuation after #ParliamentAttack pic.twitter.com/XFv6KoNpm4

— George Freeman MP (@Freeman_George) March 22, 2017
NYPD, OTHERS INCREASE SECURITY FOLLOWING 'TERRORIST INCIDENT' OUTSIDE UK PARLIAMENT
The former Polish foreign minister Radoslaw Sikorski posted a video on Twitter that seems to show people lying injured in the road on Westminster Bridge.
Sikorski, a senior fellow at the Harvard Centre for European Studies, says he saw at least five people lying on the ground after being "mown down" by a car.
Sikorski told the BBC he "heard what I thought what I thought was just a collision and then I looked through the window of the taxi and someone down, obviously in great distress.
"Then I saw a second person down, and I started filming, then I saw three more people down, one of them bleeding profusely."
A woman on a bus crossing the bridge at the time of the incident told Sky News, "I saw a car go out of control and go into pedestrians on the bridge … We saw people lying on the floor, injured obviously. I saw 10 people maybe."
PRIME MINISTER THERESA MAY RUSHED TO SAFETY AFTER ATTACK OUTSIDE UK PARLIAMENT
Prime Minister Theresa May was rushed to safety after the attack.
White House press secretary Sean Spicer said on Twitter that President Trump had been briefed on the ongoing situation.
Trump himself said during a brief appearance Wednesday before reporters at the White House that he was just getting the news. He called it "big news."
The U.S. State Department says it is closely monitoring the incident and urged Americans in London to avoid the area.
Spokesman Mark Toner said Wednesday: "We stand ready to assist in any way the U.K. authorities would find helpful."
He added that the U.S. Embassy in London is closely following the news and stands ready to help any affected Americans.
He said: "Our hearts go out to those affected."
BBC News reports police believe there is a suspect vehicle outside parliament, people being evacuated from the area.
Daily Mail journalist Quentin Letts said he saw a man in black attack a police officer outside Parliament before being shot two or three times as he tried to storm into the House of Commons.
"He had something in his hand, it looked like a stick of some sort, and he was challenged by a couple of policemen in yellow jackets," Letts told the BBC. "And one of the yellow-jacketed policemen fell down and we could see the man in black moving his arm in a way that suggested he was stabbing or striking the yellow-jacketed policeman."
Witness Jayne Wilkinson told the Telegraph: "We were taking photos of Big Ben and we saw all the people running towards us, and then there was an Asian guy in about his 40s carrying a knife about seven or eight inches long."
George Eaton, a journalist with the New Statesman, said that from the window of Parliament's Press Gallery, he saw police shoot a man who charged at officers.
"A large crowd was seen fleeing the man before he entered the parliamentary estate," he wrote on the publication's website. "After several officers evaded him he was swiftly shot by armed police."
BRUSSELS MARKS 1 YEAR AFTER TERROR ATTACKS, BUT STRUGGLES TO RECOVER
British security has thwarted some 13 terror plots over the past four years, but the UK has largely been spared major international terror attacks such as the ones seen in Belgium and France.
The incident Wednesday comes on the one-year anniversary of the terror attacks in Brussels in which 32 people were killed and more than 300 injured. ISIS claimed responsibility for the coordinated suicide bombings — two at the Brussels Airport in Zaventem and one at Maalbeek metro station in central Brussels. The bombings were the deadliest terror attack in Belgium's history.
ISIS has long promoted the use of vehicles and knives in attacks by so-called "lone wolf" terrorists, particularly in Western countries. The terrorist group has not claimed responsibility for Wednesday's attack.
The Associated Press contributed to this report.
Source Link: http://feeds.foxnews.com/~r/foxnews/world/~3/VBiwRLcfZLk/uk-parliament-terror-attack-4-people-killed-including-cop-and-alleged-assailant-20-injured.html